The difference in the size of the trash cans.
Depending on the needs of a particular room, different trash bags sizes are selected. For example, for office life and for the kitchen at home, different tanks are obviously needed. A typical kitchen tank, with a capacity of about 13 gallons in liters it is about 
 50, is usually two to three times the size of an office tank. 
Parameters of 13 gallon kitchen trash can 
There are several variants of the 13 gallon trash can on the market, varying in shape and height. Low or high, round or rectangular – you can choose exactly the one that will fit in a particular kitchen. One of the most popular is the model with the parameters 14 x 18.9 x 26.5 inches. 
Proportions of 30 gallon trash can 
There are different versions of the 30-gallon metal trash can. Some are rounded and plastic waste bins, others are rectangular containers. The average size is 25-1/2 inches x 16-1/2 inches x 31-3/4 inches. 
Which kitchen trash can size is optimal? 
It all depends on the specific task. If you need to store the can in a drawer, it is better to take a small one, about 7 gallons. But the standard value is slightly larger-buckets from 10 to 13 gallons. It is in such a metal trash can that it is convenient to put a 13-gallon bag. 
Click or tap the image to view it in full resolution
If you like this infographic, please share this post.
---
Parameters of the small kitchen trash can with lid. 
Typically, the smallest buckets for the kitchen are considered from 2.5 gallons with a diameter of up to 100 square inches. This is no more than 10 liters. These buckets are usually square or semicircular, and most often – round. 
The parameters of the 5-liter can 
If you compare it to a 1.5-liter bucket, you get the following: with the parameters 5 x 5 x 7.4 inches for 1.5 liters, the 5-liter bucket is noticeably larger – 7.87 x 7.87 x 11.02 inches.
Parameters of the 10 gallon can 
Trash bag sizes for 10 gallon bucket from the company BRUTE Waste Containers, in comparison with more spacious models, do not look big. At 17-1 / 8 inches tall and 15-5/8 inches in diameter, it is very small next to 20-gallon and 32-gallon buckets (22 7/8 inches and 27-1 / 4 inches in height, and 19 1/2 inches and 22 inches in diameter). a 44-gallon can, with a diameter of 24 inches and a height of 31-1/2 inches, exceeds its trash can size by almost twice that. 
Regular garbage bags sizes 
Since the bags are sold in different packages and in different quantities, not all of them specify the exact parameters, but the average garbage bag sizes are 4.4 x 9.5 x 8.9 inches 
What is the usual can
Usually trash can 13 gallons is considered the most common option (how many liters is 13 gallons we've said before, it is about 50 liters). 
Parameters of the 21-gallon can 
Typically, these containers are 9 inches in diameter. 
The convenience of the 8-gallon can 
Most often, these cans, which can hold 30 liters of garbage, have a convenient rounded shape and, thanks to their compactness, can easily fit in any room. 
Let's look at the parameters of a few specific trash cans.
Click or tap the image to view it in full resolution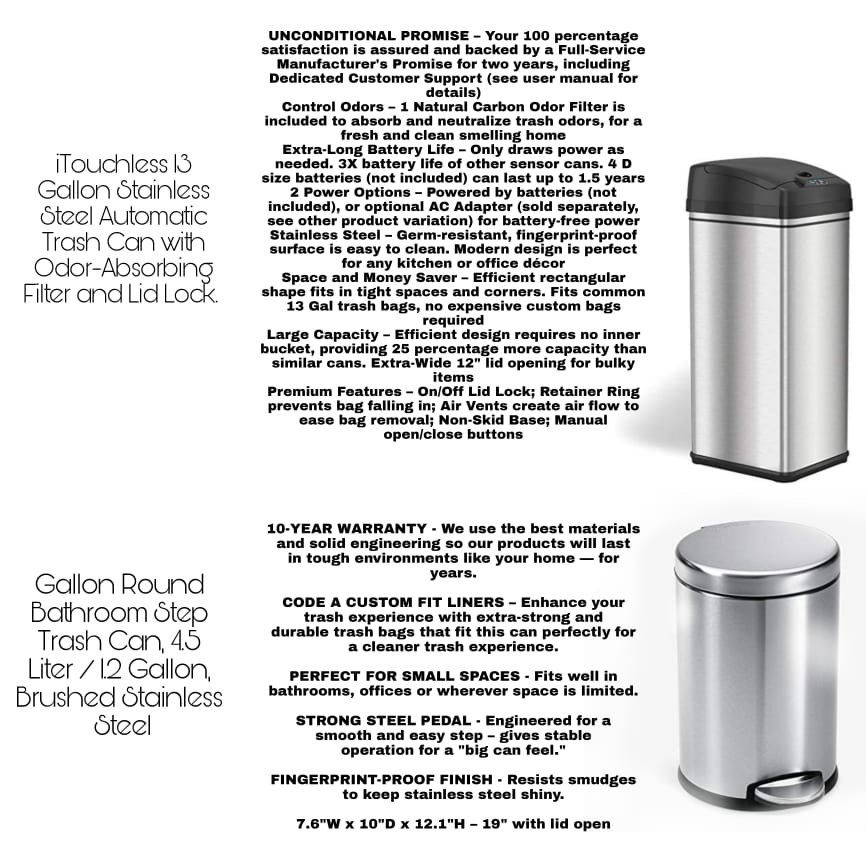 If you like this infographic, please share this post.
Starting with the largest can – iTouchless 21 Gallon Dual-Deodorizer Open Top Trash Can Rectangular Shape. 
This roomy can with a large opening of 14 inches wide is suitable for use not only at home or in the office, but also in public places such as hotels.  
Thanks to its convenient shape, it can be placed both against the wall and near the table, Two filters that absorb unpleasant odors, made of coal, are attached to the tall kitchen trash can. Made of stainless steel, it stays clean when touched and is protected from stains. 
iTouchless 16 Gallon Dual-Deodorizer Round Open Top Trash Can and Recycle Bin has slightly lower parameters. 
It holds 60 liters of garbage and is suitable for regular trash bag sizes of 16-18 gallons. Its shape is round and neat, and the open hole at the top is ideal for use in places with high traffic.
Included with the can are two very high-quality filters that prevent the spread of garbage odors. 
On top of the steel, can is a strong and easy-to-clean plastic cover, the same silver shade as the metal trash can itself. 
iTouchless SoftStep 13.2 Gallon Stainless Steel Step Trash Can with Odor Control System is the next tall kitchen trash can that we will consider. 
Unlike the previous models, it is equipped with a tightly closed lid and a convenient pedal that allows this lid to be easily lifted. This pedal can be used more than 200 000 times. 
It is made of non-staining stainless steel and is equipped with a replaceable flap, which guarantees long-term service of this can. 
The next one is iTouchless 13 Gallon Stainless Steel Automatic Trash Can with Odor-Absorbing Filter and Lid Lock.  
This 13 gallon trash can has a rectangular shape and is made of stainless steel, which does not leave stains on it. 
Odors are kept inside by a reliable carbon filter. 
But the most interesting thing about this model is the sensor system for opening the lid. The battery of this can lasts three times longer than that of its analogues, due to the fact that it is consumed only as needed, and not all the time. Very convenient model of trash can 13 gallons. 
And finally, the smallest can – simplehuman 4.5 Liter / 1.2 Gallon Round Bathroom Step Trash Can. 
This step trash can made of polished stainless steel and features a comfortable pedal that leaves your hands clean. 
It has a ten-year warranty and is perfect for any, even the smallest rooms because of its parameters – 7.6 inches x 10 inches x 12.1 inches, and 19 inches height when the lid is open. 
The inner can bucket can be lifted, making waste disposal even more convenient. 
It is equally important to study several models of different garbage bags sizes too. After all, to ensure cleanliness and convenience, it is necessary to choose the most suitable and high-quality bags for cans. 
The first of these – Solimo Tall Kitchen Drawstring Trash Bags-holds the standard 13 gallons of trash. There are 200 such bags in a package and each of them is equipped with red ribbons for the convenience of tying a full bag. 
Glad ForceFlex Tall Kitchen Drawstring Trash Bags are also suitable for the most common metal trash can and hold 13 gallons of trash. 
Each package contains 110 plastic bags, each of which is equipped with special laces that can be stretched if necessary, to increase the user's convenience. 
Thanks to the Forceflex technology, each bag is additionally protected from various types of damage and will not tear at not appropriate moment. 
Plasticplace 8 Gallon Trash Bags – the last model of trash can bags that we will talk about here. 
These bags are made of low-density resins, which makes them particularly resistant to tears and accidental cuts. 
Each pack contains 200 white drawstring bags, just 22 inches high each. Ideal for small metal trash can, usually standing in offices or bedrooms.