A kitchen apron is a traditional kitchen accessory, whose main task is to protect people's clothes from kitchen dirt, grease stains, and exposure to high temperatures. In many national costumes, the apron is an important decorative element.
For starters, think about what type of apron best suits your cooking needs and choose your best option.
Types of aprons
There are many varieties of these products but If you delve deeper into the topic, it turns out that there are two types of this type of homeware – the bib aprons and the waist aprons, which differ even more in a simple design.
Waist Aprons
This is a rectangle with a belt sewn to it, it does not even have to have a top – a bib. The apron covers only the surface of the legs (there is no upper part). An apron of this plan is convenient for work in the kitchen or in the hall. Usually, it is preferred by chefs and waiters, but there can be exceptions for other professions as well. An apron without a bib is usually sewn with pockets and an adjustable belt at the waist. As for the length, then here it can also be very different. Chefs prefer long aprons (since they work with food), and waiters prefer short aprons so as not to hinder movement during their work.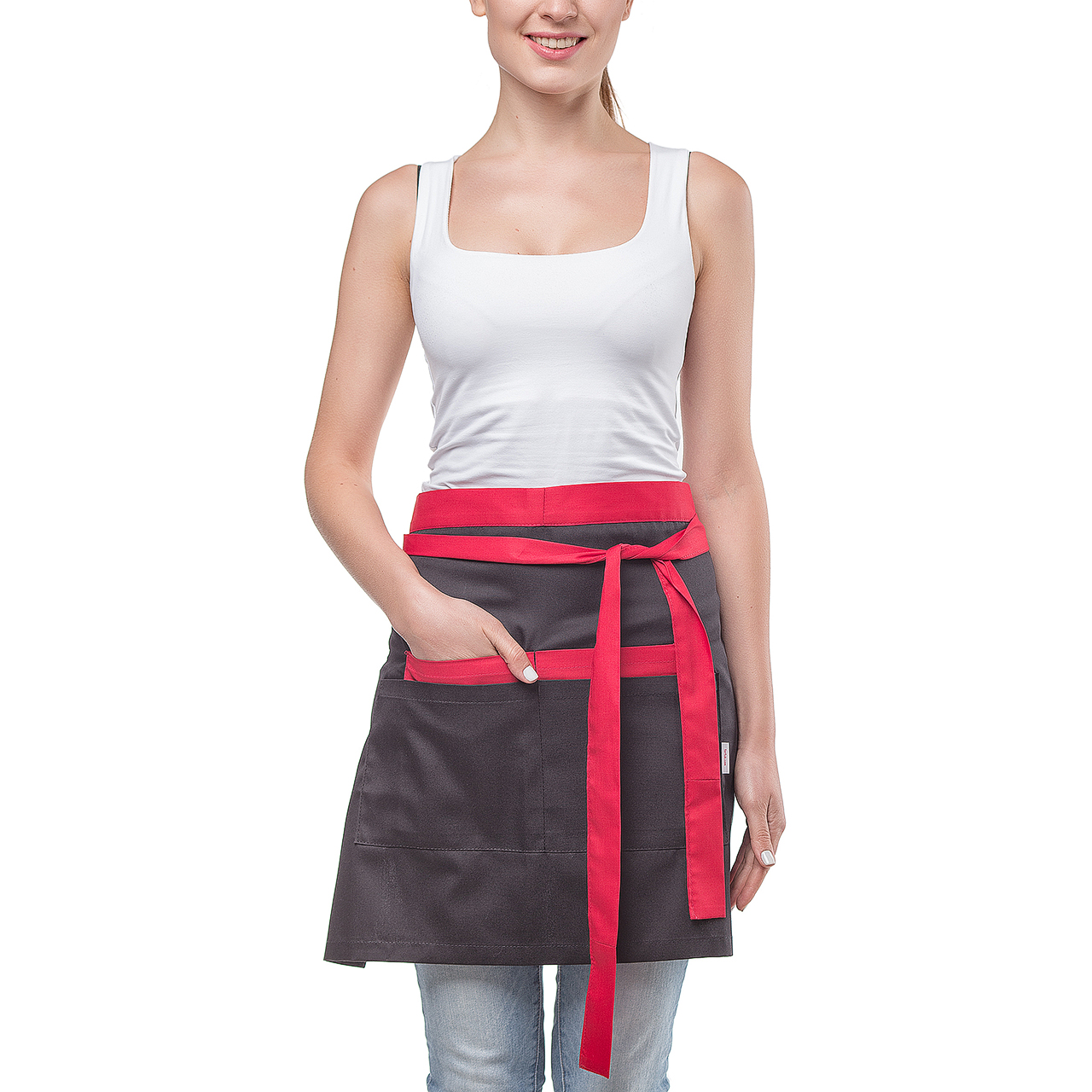 Bib Aprons
Composed of two main parts: the hem and the bib. They are sewn as one unit and are often used to protect the entire body while working: chest and legs. This type of apron covers a larger part of the body surface (compared to an apron without a bib), which provides reliable protection for the garment underneath. Aprons with bibs are usually sewn with an adjustable buckle at the neck + pockets at the waist level and a belt. They come in a variety of lengths. Short aprons with bibs are usually used by stylists, hairdressers, or Neil masters. Long aprons are mostly worn by waiters, baristas, bartenders, florists, and barbers. The length can be very different, it all depends on what parameters you need for an apron.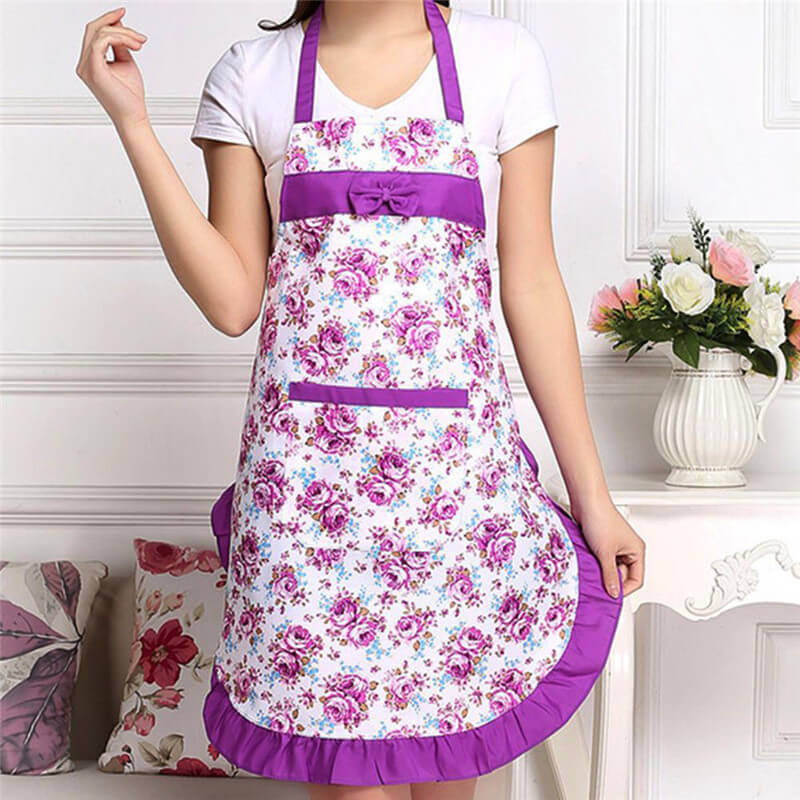 First of all, we are interested in a cooking apron.
For cooking, it is better to choose an apron made of natural fabric – cotton, linen, denim, satin, or chintz. Aprons made of oilcloth are better left for washing dishes: they perfectly repel water, but in contact with hot quickly fall into disrepair. Capron aprons are also not suitable – the apron will quickly become dirty, and will require washing at high temperatures, and nylon will not withstand this.
Depending on style and purpose, there are several types of cooking aprons
Men's Cooking Apron
If a man likes to cook, it is worth giving him a good apron. Such an accessory will protect his clothes and make him feel like a real chef. In addition to kitchen versions, aprons, depending on the fabric used, can be used as additional protection in production or in the home workshop.

Womens Cooking Apron
At first glance, a women's apron for the kitchen is a mundane thing, a sort of consumable for everyday cooking. But have you ever paid attention to the kitchen aprons of professional chefs? Not only do they always look perfect, but they are also made in the same style, consonant with the institution itself. So women's apron is a full-fledged part of the interior, and it doesn't matter if the hostess wore it or hung it on a hook, it just has to match the general stylistics of the kitchen.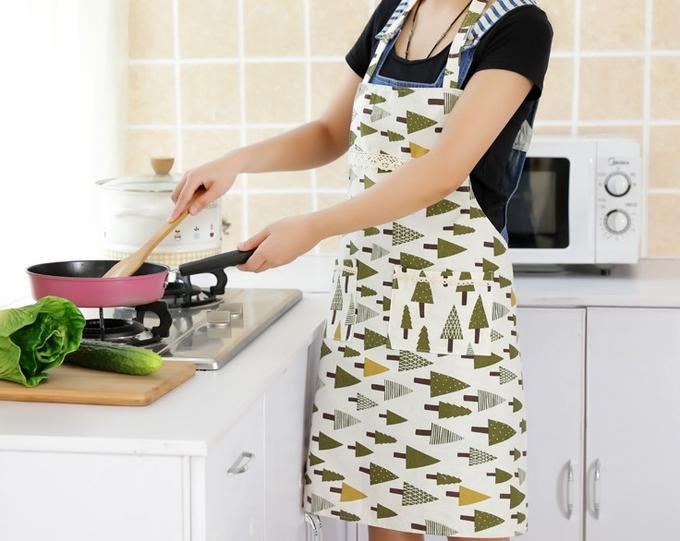 Kids Cooking Apron
A children's chef's apron would make a great gift for your child. If you want to teach your son or daughter how to cook, then you should definitely consider getting children's aprons for the kitchen. As young children, they are constantly getting their clothes dirty. A chef's apron for children will allow you to be sure that your baby's clothes will stay clean, no matter what happens, while learning to cook. In addition, having a children's kitchen apron on your baby will give them extra protection from hot and sharp objects that they risk injuring themselves while cooking.
The fact that your child, cooking with you, will be wearing a children's chef's apron has another advantage. After all, every kid will be so nice to feel like an adult. And here he is, seeing that you, when you start cooking, always put on a kitchen apron, will associate himself with you – because it is worn exactly the same piece of clothing as an adult. That is, for a child apron will also be some kind of element of the game and therefore an additional incentive to better absorb the information and experience received from you.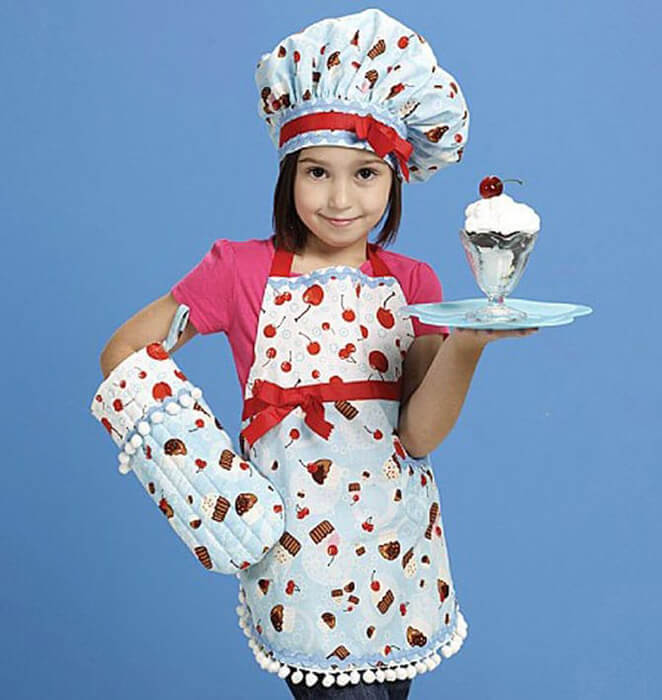 Denim Apron / Jean Cooking Apron
Denim aprons are an interesting solution. Is great at withstanding multiple washes and is quite dense, but is also great at letting air in. Another plus is that denim aprons look stylish and protect your clothes well.

Leather Apron Cooking
Leather is probably one of the best fabrics for an apron – it is very durable and hard-wearing. Leather aprons are great for those who will be working with mild chemicals, heat, and other products. Leather products will protect you effectively – they are perfect for a wide variety of jobs. They will also last you a very long time, so it's a good investment in your future. Leather aprons are very expensive these days, so eco-leather aprons have replaced them. Aprons made of this material also have a lot of advantages. Leather aprons are great for hairdressers, stylists, bartenders, and bartenders. Now aprons with leather inserts have become very popular all over the world.
Japanese Apron
This is an apron without laces that is quick and easy to put on.
Japanese apron with wide straps crossed on the back is a Japanese style apron that is comfortable and very original to dress with, it will make you wear it without realizing it while showing off your best image.
This apron will be another charming detail in your daily life.
Waterproof Kitchen Apron
The material used is usually PVC or rubberized fabric, designed to protect against water, high humidity, and contact with water and its solutions.

Aprons Bistro
Is also a belt apron, but longer than half the apron. Apron with pockets and convenient shape also makes it popular in the field of catering.
Designer Aprons
You can make a kitchen apron to order or sew it yourself and make it original. You can add any logo if you wish.
Apron working
PVC has high mechanical resistance to cuts, friction, and tears.
Chefs, waiters, and pastry chefs use this type of work clothes. And any housewife in the kitchen will need an apron, which will serve you for more than one year, protecting your clothes when cooking for guests or family.
Cooking Apron Purpose
Well, it's obvious, you'll say – to protect your clothes from dirt and hot grease during cooking. But that's not all. There are Benefits of using aprons and you can't disagree with that:
The apron protects the food from your clothes, or rather from the bacteria and germs that have settled on them without your knowledge or demand.
The apron has pockets where you can put kitchen utensils used during cooking.
Apron gives the cook a solid and stylish look!
And, of course, it is additional protection against all kinds of chemicals.
What is the use of apron
Aprons have long been a familiar element of the closet, which can be found not only in the kitchen but also in everyday life. It is used almost everywhere. They are worn by women, men, adults, and children. This item has evolved over more than a century, even a millennium. It won the favor of people and sometimes came to naught. Now, this uses of apron in the following cases:
Domestic. housewives use the apron when cooking, washing dishes, and doing other household chores.
Kindergarten. They are worn by children at meal times, and during creative activities with paints, plasticine, and other starchy things.
School. Boys and girls wear them during labor lessons. The female sex adorns the apron with school uniforms during holidays, and various events.
Medicine. There are models for different categories of medical personnel. They are used by surgeons and nurses.
Communal sphere. Special protective aprons for janitors, and sanitary technicians.
Service sector. They are worn by sales clerks, hairdressers, shoemakers, maids, loaders, and cleaners.
Catering. It is an obligatory attribute of cooks and waiters.
Manufacturing. The apron is provided for turners, metal washers, blacksmiths, and welders.
Chemical industry. Protective products are used by laboratory technicians when working with different reagents.
Fishing industry. They are used by workers in fish shops, and fishermen going out to fish.